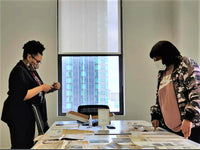 Never in our wildest dreams...
When we started our careers, becoming storytellers and historians was not part of the plan.

"I don't know any Black architects," we'd hear people say. Well, Saundra is one. We know many - in Detroit, through our membership in the National Organization of Minority Architects, and others.

Making the invisible visible became our mission. Letting folks know about Donald White and Francis Griffin, Michigan's first two licensed Black Architects, and their contributions not only here...
Read more
Volunteer
Contact Us. Volunteering For Tours and Committees.
Noir Design Parti, historical documentation work—including periodic tours of trailblazers' buildings, as well as a forthcoming book—is intended, in part, to inspire young black Detroiters to pursue careers in architecture.
History as a Launch to Future...
Call for Volunteers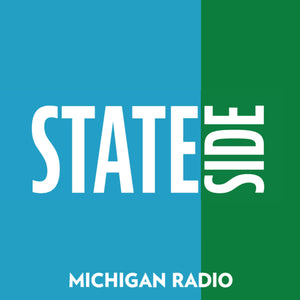 Check out this Podcast
The impactful legacy of Detroit architect Nathan Johnson. In honor Nathan Johnson, AIA passing on November 5, 2021 Karen AD Burton and Saundra Little, FAIA had an interview with April Baer of Stateside a Michigan Radio program about this great architect's work of on the City of Detroit. A true Detroit Trailblazing architect!
Blog
Shop our Brand and Supports our Mission
Support Noir Design Parti efforts by purchasing our T-shirts, hats bags and drink coasters. Support blacks architects stories and represent Detroit at the same time. If you are seeking unique gifts, or want something for yourself – Get your Noir Design Parti Gear.
Shop
Starting the real conversations!
Presented by Live 6 Alliance & the Detroit Collaborative Design Center at the University of Detroit Mercy with a grant from the National Endowment for the Arts. Recorded Panel Discussion on Facebook with Architect / Owner teams of three West McNichols Road business in the Liv 6 neighborhood. This event was be moderated by: Karen Burton and Saundra Little co-founders of Noir Design Parti. Live6 and Noir Parti will be an ongoing Exhibit following the Panel Discussion on November 18th.
Blog
Storytelling the work of Black Architects
Noir Design Parti is a "Spark"
Noir Design Parti and a story published by Curbed Detroit is sparking conversation about the history of African-American architects in Detroit.

Matthew Piper
For Years, Black Architects Have Been Underrepresented In Their Field. A Local Group is Trying to Change That.

CultureShift , LaToya Cross
Great to have Noir Design Parti as Knight Arts Corhort member and partnership between our two organizations. Black Bottom Street view enjoys the partnership.

Emily Kutil, Black Bottom Street View